Hi guys, so happy you dropped by today! I have two exciting pieces of news I'll share at the end of this post, but first, I'll dive right into this makeover by saying I have mixed feelings about crackle finishes. It can look great. It can look not so great. We all know Milk Painted Furniture is the queen of crackle, but the thing is, you don't have a whole lot of control. Your distressed finish is pretty much left up to the painting gods.
I saw my inspiration piece at HomeSense last week. I'm kicking myself that I didn't take a pic for you. The crackle finish was stunning and the dresser was all decked out for spring. Sisal Easter bunnies, floral and pastel throws, Easter lilies and spring wreaths – gorgeous styling – but the crackle dresser still stole the show! It made me think, I HAVE to give this a try. Which brings us to this Modern Farmhouse Dresser Makeover. 🙂
And can I just say, this milk paint did its 'thing' because this crackle finish is large-and-in-charge and magnificent! Here's a peek at the before and after…
THIS POST CONTAINS AFFILIATE LINKS TO PRODUCTS I USE. YOU CAN SEE MY FULL DISCLOSURE HERE.
SOURCE LIST::
Vintage Dresser (Salvaged – Estate Sale)
Sand Paper & Tack Cloth & Shop Towel
Paint Brush and Mixing Container for Milk Paint
DRESSER TOP::
MILK PAINTED FURNITURE CRACKLE FINISH
For all of you who love the modern farmhouse and naturally distressed look, here's how to achieve an authentic large crackle finish.
I started by giving the entire piece a light sanding to create some tooth. The dresser top was in bad shape with big gouges, burns, and stains, so it was completely sanded down with my orbital sander (80 grit), slowly moving up in grit for a flawless finish ready for stain.
The top is a farmhouse finish using Varathane Gray Weathered Wood Stain. Once the stain was 100% dry, I dry brushed a little Hurricane Gray over it and then dry brushed again with AS Old White. You could use any variation of these paint colors. Whatever gray and white you have on hand would work.
The body was primed with B.I.N Shellac and then painted with MMS Dried Lavender Milk Paint.
The reason for using the B.I.N Shellac Primer under the milk paint is three-fold.
To stop the bleedthrough.
To give an undercoat of white to contrast with the dried lavender – light and springy – like my inspiration at HomeSense.
When using shellac or shellac-based primer underneath milk paint, more times than not, it will cause the milk paint to shrink and crack.
One fairly thick coat of milk paint was applied over the shellac-based primer and once it started drying it immediately formed this large crackle finish. While the milk paint was semi-dry, I took a shop towel and gently rubbed some areas to expose some of the white primer to create the distressing. After the piece was 100% dry, I sanded it to get a super smooth finish and top-coated it with Minwax Tung Oil. I got right into the process and didn't take too many progress pics, but here are some close-ups of the finish.
And now for some exciting and fun news.
First, Anuj Agarwal, the Founder of Feedspot emailed me to say Salvaged Inspirations was selected as one of the Top 25 DIY Furniture Blogs on the web. I didn't submit the SI Blog for consideration, but if any of you did – a BIG THANK YOU! I'm excited to be included with some amazing DIY'ers like Anna White, Young House Love and Shanty to Chic amongst others. You can click the badge below to see the full list!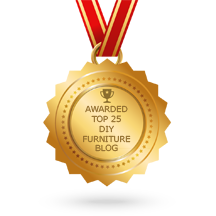 Also, this Wednesday I'm heading to my very first bloggers' conference in Austin Texas!!! I'm hoping to learn more strategies and gather more ideas to keep this blog the best it can be for YOU!
Just between you-me-and-the-lamp-post, I'm VERY excited but also very nervous! Although most people describe me as an extrovert, I'm not comfortable in large groups. Depending on the atmosphere and surroundings, they can cause me some anxiety and totally deplete my energy.
Having said that, I'm excited to step out of my comfort zone and have the opportunity to learn and grow. And as a bonus, Texas has always been on my list of places to visit. I'm there for business and not to site-see, but hopefully, I can find a little time to see parts of this eclectic city. I've heard great things! So if you've been to Austin and have some traveling tips, I'm all ears and open to any suggestions …and a big thanks in advance! 🙂
I'D LOVE TO HEAR YOUR THOUGHTS ON THIS MAKEOVER AND MILK PAINT CRACKLE FINISH. IF YOU HAVE ANY TIPS YOU'D LIKE SHARE OR HAVE ANY QUESTIONS, FEEL FREE TO CHIME IN… I ALWAYS LOVE HEARING FROM YOU!
Happy painting have an inspiring day my friends!
Denise x